Поставка гидравлических моторов различных типов:
радиально-поршневые, героторные, героллерные, аксиально-поршневые, шестеренные, с наклонным блоком и т.д.
Turolla OpenCircuitGear
HESPER S.A.
Sunfub
ABER - Embraiagens e Comandos Hidráulicos
A. B. LDA - Португалия
| | |
| --- | --- |
| Hydraulic Tipping Valves with: 1 Pressure, 2 Pressures, 3 Pressures. | |
Small, Robustness

Gear pump with fixed flow.
Medium, Faster.

Gear pump with fixed and bidireccional flow.
| | |
| --- | --- |
| Gear Pump with Sensitive Integrated Valve that send all the flow to the tank at 210 bar. | |
BI Series allow a change in the rotation way in an easy and safe way for all the pump components.

When at work these pumps show a good performance, with very low noise and a continuous flow of the oil.
BH Series are the result of an accurate design development.

Aber BH Series are very robust, they are equipped with 5 radial and axial bearings. To manufacturer this pumps, Aber uses high resistant material in strategic points.
| | |
| --- | --- |
| Pump with two outlets, which work on independent pressure and on independent circuits, when use to serve two independent oil circuits. | |
| | | |
| --- | --- | --- |
| Pump with two outlets, which work on independent pressure and on independent circuits. | | |
А также Cilindros y Cromados Palentinos SL (гидроцилиндры, гидромоторы, телескопические цилиндры)
http://www.cicrosa.com/pdf/otros/0/MotoresHidraulicos.pdf http://www.cicrosa.com/pdf/cilindros/1/Estandar.pdf
Casappa S.p.A
White Drive
KRACHT
KCL Hydraulic equipment
Hartmann
Bucher Hydraulics
JTEKT
KTZ
Veljan Hydrair Limited
Roquet
Oilgear
Jihostroj
Anchor Lamina героллерные моторы
Rnomac
Hydro Leduc - гидромоторы с наклонным блоком
POK
OMFB
KAZEL HYDRAULICS
ROTARY POWER
Salami
Marzozzi
HIDRAULICA UM PLOPENI
Eaton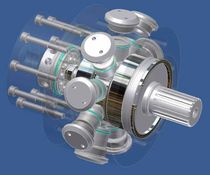 DYNEX